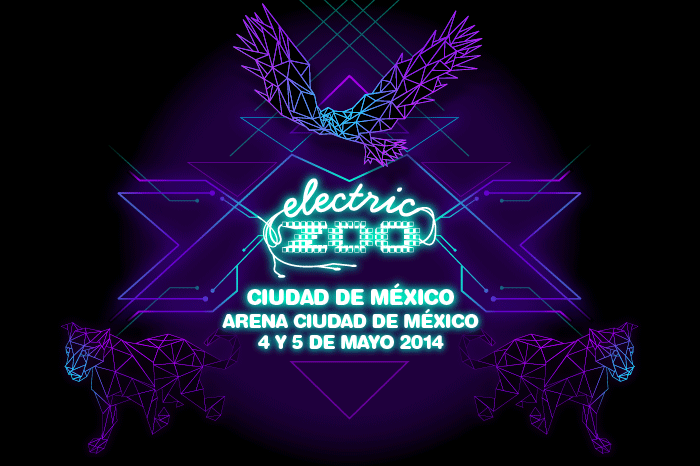 We're excited to announce Electric Zoo Mexico City on May 4 & 5, 2014! Full event details are available at http://www.electriczoofestival.com/mexico.
Nos complace anunciar que Electric Zoo Ciudad de Mexico se llevará a cabo los dias 4 y 5 de mayo. Entra a http://www.electriczoofestival.mx
para todos los detalles.
We are happy to announce that Made Event has been acquired by SFX Entertainment, the world's largest producer of live events and entertainment content focused primarily on electronic music culture.
For over a decade our goal has been to present the music we love in exciting environments, with state-of-the-art production, and attention to detail. We are proud of what we do, and thankful to you, the fans that enjoy our events and electronic dance music as much as we do.
Although Electric Zoo will continue to be developed by the same team that has been on board since its inception, being part of something larger provides us with many new opportunities, like exciting technology that will improve the festival experience both online and at our events, creative collaboration with other SFX companies, and bringing Electric Zoo to new locations around the globe.
We are genuinely excited to be part of the mission SFX has put forth; to provide the fans of electronic music with the best possible live experiences, music discovery and digital content connectivity. In short, becoming part of the SFX family will enable us to bring more of what we do to you - only bigger and better!
-The Made team
There will be more party animals at the Zoo this Labor Day Weekend than ever before, and we want to make sure you all enjoy it thoroughly and get home safely. Please watch out for each other, and know that help is all around you. If you see someone slip, trip, or overheat, someone who needs medical attention, rehydration, or just a helping hand, please keep the positive vibe alive, and be a friend to a friend in need.

Electric Zoo strongly advocates against the use of drugs. Avoiding drug use is the only way to completely avoid drug-related risks. You don't need drugs anyway when world class music is swirling all around you. Know that mixing drugs and alcohol, or frequent and increased use, will increase your risks of life-threatening problems. Here's some math to go with that: Drugs or alcohol + Non-stop Dancing + Sun Exposure = Dehydration and a whole spectrum of other dangerous conditions. So stay safe, stay hydrated, take frequent breaks, remember to eat, and you will successfully pull off having the time of your life! If you suspect that someone is ailing from a medical issue or the overuse of drugs or alcohol, seek immediate medical attention.

Keep an eye out for these signs and symptoms in yourself and others, if you or a friend experience even just one sign seek medical help immediately:


Headaches


Nausea


Confusion


Blurred Vision


Inability to talk


Racing Heartbeat


Vomiting


Muscle tremors


Convulsions


Discolored lips or nail-beds


Shallow breathing


There are medical aid stations marked with a red cross in the four corners of the main field and to the left of Main Stage East. They are staffed with emergency medical professionals, and they have water if you need it. Keep the neon pink HELP POINTS flyer that you can obtain as you enter the festival in your back pocket for info in a hurry, and keep the positive party vibes flowing by looking out for each other.
The fifth installment of Electric Zoo Festival is proud to present the inaugural Drumcode Stage, curated by head honcho Adam Beyer, as it takes over the Sunday School Grove. After fifteen years, the Swedish label has established itself as a premiere outlet for the finest techno production available in today's electronic music sphere. On Sunday, September 1, Randall's Island will welcome a roster of Drumcode's heavy weights including Paul Ritch, Nicole Moudaber, Joel Mull, Ida Engberg, Victor Calderone, and Adam Beyer himself.

While flying under the radar, Paul Ritch has remained a staple in the realm of dark, ominous beats over the years. Similarly, techno queen Nicole Moudaber continues to reign supreme, as her debut album Believe shook the foundation of the scene. Now, her upcoming Give Me Body EP on MOOD Records will undoubtedly sky rocket to the top of the charts once released on August 12.

Next up, the Drumcode Stage will feature Joel Mull, a true trailblazer, as he put himself on the map as an innovator of sound amongst the Swedes. Maintaining the Swedish techno affair, Ida Engberg will take the decks for a rare appearance in the Empire State.

Representing his hometown of Brooklyn, Victor Calderone will enthrall his legions of savvy sonic devotees. Finally, Adam Beyer, the label boss himself, will bring his trendsetting musical preferences to the table, as Drumcode Radio celebrates its third anniversary. With less than a month left, prepare yourself for three days of unprecedented performances from these pioneers of the underground.

Win your own Drumcode Prize Pack!
We're giving away a Drumcode Prize Pack to a lucky winner chosen at random. All you have to do is re-tweet the following on Twitter. (You must be following @ElectricZooNY to win!)

RT @ElectricZooNY I want to win a Drumcode Prize Pack! @DrumcodeRecords takes over #SundaySchool Grove at #EZOO5 Sunday, Sept 1!
Check out the new expanded map for #EZOO5! With the addition of Main Stage East, Electric Zoo is bigger and better than ever!
Electric Zoo Festival is excited to welcome the German trio of Moderat, made up by Modeselektor and EZoo veteran Apparat to the 5 year anniversary celebration!

The project combines Modeselektor's thundering bass rumbles in the cellar with Apparat's sensitive and subtle melodies floating high in the eaves. The fact that what one assumes to be incompatible actually communicates, is what makes Moderat so unique. Listen to their new album 'II' available for stream on NPR and purchase the album out TODAY, August 2 on iTunes. If that's not enough - watch the video for new single "Bad Kingdom" and begin counting down the days till #EZOO5!

You don't want to miss their Electric Zoo set as it's 1 of 3 North American dates and their ONLY East coast stop!

Win your own Moderat 'II' CD!
We're giving away a copy of Moderat's new 'II' album to a lucky winner chosen at random. All you have to do is re-tweet the following on Twitter. (You must be following @ElectricZooNY to win!)

RT @ElectricZooNY I want to win a Moderat 'II' CD! @ModeratOfficial plays #EZoo5 Saturday Aug 31!
After getting signed to Eric Prydz's Pryda Friends label and hitting the Beatport top 10's with every release thus far, it's safe to say Fehrplay has burst on to the progressive house scene this past year.

The momentum keeps going in 2013 for the Norwegian newcomer kicking things off with a guest mix on Above & Beyond's 'Group Therapy' radio show (listen now) and featured as DJ Mag Canada's "Cover Mix Artist of the Month" this past June (download available on Soundcloud here). Throw in two upcoming releases and an appearance at Electric Zoo's 5 year anniversary bash -- he's jumping to the top of the class.

This Monday, July 29th Fehrplay's new double sided EP featuring tracks, "Monte" (recently premiered on Billboard) and "Talk To Me" (listen here) is out on Pryda Friends available for purchase on Beatport. Following his recent progressive anthem 'Phantom' and his 2012 hit 'Nightride,' 'Monte' showcases a different side of Fehrplay, diving into a deep and darker realm of totally fresh house music. The track is unexpected, totally original and an indication that Ferhplay is further evolving a brave and singular style. From sunny afternoon deep house soirees, to late night sessions, this is a track that will grab dancefloors and bring perfect vibes to Electric Zoo's Hilltop Arena where you can find him making his #EZOO5 debut Saturday, August 31st!

Win your own signed Fehrplay vinyl!
We're giving away a signed Fehrplay vinyl to a lucky winner chosen at random. All you have to do is re-tweet the following on Twitter. (You must be following @ElectricZooNY to win!)

RT @ElectricZooNY I want to win a signed Fehrplay vinyl! @Fehrplay plays #EZoo5 Saturday Aug 31!