+ Exclusive Robbie Rivera Electric Zoo DJ Mix
We can count on dance music veteran Robbie Rivera to school Electric Zoo New York audiences this Labor Day Weekend. Born and raised in San Juan, Puerto Rico, Robbie Rivera's music and record label Juicy Music have been around for more than 10 years with an extensive catalog of original productions and remixes to his credit, ranging from tribal to progressive house, as well as incorporating garage and Latin elements. Take a listen to his infectious new track featuring Caroline D'Amore "That Summer (Kiss The Rain)" for a taste of what's to come.

Robbie has collaborated with some of the biggest names in music on remixes and compositions over the years including Basement Jaxx, David Guetta, Deadmau5, Faithless, Ferry Corsten, Kaskade, Kylie Minogue, Madonna, Pink, Santana, and Tiësto.

Robbie also produces a radio show called "The Juicy Show" which airs weekly on SiriusXM (Ch. 52) and around the globe. Listen to full episodes on his SoundCloud page here.
Get to know Robbie Rivera before he performs at EZNY's Riverside tent Saturday, August 30 with his exclusive Electric Zoo Countdown Mix here!
For more information on Robbie Rivera:
Facebook.com/RobbieRivera
Twitter.com/RobbieRivera
Instagram.com/robbierivera
Soundcloud.com/RobbieRivera
Youtube.com/RobbieRivera


+ Exclusive Feenixpawl Electric Zoo DJ Mix
Australian duo Feenixpawl rose to fame after the release of their 2012 global hit "In My Mind" with Ivan Gough & vocals by Georgi Kay. The track, signed to Axwell's Axtone records, shot straight to number 1 on Beatport, earned Swedish House Mafia member Axwell a Grammy Nomination for his remix of the track and has become a festival season staple ever since. Listen to Axwell's "In My Mind" remix here.

Since the success of "In My Mind," the Melbourne natives have produced official remixes for the likes of Kaskade, Adrian Lux, and John Dahlback, also garnering huge international support for their bootlegs like Ellie Goulding's "Lights". Feenixpawl are currently stirring up buzz with their single "Hear Me" with Ivan Gough ft. Christine Hoberg from their recently released EPs 'Hear Me Pt I.' and 'Hear Me, Pt. II [Remixes]'.

Feenixpawl have gained a reputation for being the go-to duo for a high-energy, 'hands in the air' experience, making their Electric Zoo New York debut Sunday, August 31 all the more exciting! Here is an exclusive Feenixpawl DJ mix created for the EZNY fans to get a taste of what's to come this Labor Day weekend.

For more information on Feenixpawl:
www.feenixpawl.com
Facebook.com/feenixpawl
Twitter.com/feenixpawl
Instagram.com/feenixpawl
SoundCloud.com/feenixpawl
YouTube.com/user/Feenixpawl
+Exclusive Oliver Heldens Electric Zoo Mix

The Dutch Oliver Heldens was just 17 years old when one of the biggest record labels in the dance industry, Spinnin' Records, approached and signed him. Instantly recognizable for a techy / deep house hybrid, Heldens reached the masses working with Becky Hill on a vocal cut of "Gecko (Overdrive)", a track that quickly found its way to number 1 on the UK singles charts. You can check out the official video here. With such releases as "Gecko," his Robin Thicke "Feel Good" remix, and his Martin Garrix "Animals" remix, it's safe to say that 2014 has been a huge year for the rising star and now he's bringing that hybrid style to Electric Zoo!

On Saturday, August 30, this 19 year old dance music phenom will be making his Electric Zoo debut at Randall's Island Park. Can't wait until then? Listen to the exclusive mix Oliver Heldens created to get you pumped up for Electric Zoo 2014.

For More information on Oliver Heldens:
Facebook.com/OliverHeldens
Twitter.com/OliverHeldens
Instagram.com/oliverheldens
SoundCloud.com/oliverheldens
YouTube.com/user/oliverheldens
Join Bingo Players 'Knock You Out' Team For a Chance to Win a VIP Electric Zoo Flyaway

Bingo Players play for the third time at Randall's Island this Labor Day Weekend on Sunday, August 31. Following the widely lauded release of the latest hit single 'Knock You Out', Bingo Players now return with a high-profile remix package for their sure-fire summertime anthem. Listen to 'Knock You Out' Remixes EP on SoundCloud here.

Featuring an array of eclectic cuts from the likes of Hardwell, fellow Electric Zoo 2014 artist Gorgon City, Champion and Flaxo, these mixes are sure to keep you dancing throughout the summer! The entire EP package is now available to buy on iTunes via Hysteria/Postiva.

Bingo Players have recently launched the "Bingo Players Knock You Out Team" social club to reward their biggest fans with prizes --with the summer grand prize being a VIP flyaway to Electric Zoo in New York City, including a flight, festival tickets, a meet & greet with Bingo Players and more! Details here.

Before Bingo Players hit Electric Zoo this Labor Day Weekend, catch Bingo Beach party on Governors Beach Club this Sunday, June 29 with Bingo Players, Clockwork, Henry Fong and Bare. Tickets available here.


For more information on Bingo Players:
www.bingoplayersmusic.com
Facebook.com/bingoplayers
Twitter.com/bingo_players
Soundcloud.com/bingoplayers
+ Exclusive Electric Zoo Countdown Mix
Belgian brothers Dimitri Vegas & Like Mike, named in DJ Mag's Top 10 DJs in the world, have taken the dance music world by storm over the last few years providing "Tremors" wherever they play. Famed for their high energy sets, and with an exhilarating combination of live show and crowd busting MCing, Dimitri Vegas & Like Mike are one of the most hotly anticipated acts making their Electric Zoo New York debut on Randall's Island Friday, August 29. Dimitri Vegas and Like Mike have created an exclusive Electric Zoo mix to get fans pumped for the Labor Day Weekend extravaganza. Listen to their exclusive mix here.

Dimitri Vegas & Like Mike have taken home a handful of accolades from both the Beatport and International Dance Music Awards, including 'Artist of the Year' and 'Track of the Year' for "Mammoth" respectively. The duo also recently teamed up with Diplo and Fatboy Slim (featuring Brazilian electro funk group, Bonde Do Role) for their take on an anthem for the ongoing 2014 World Cup with "Eparrei." Watch the official video here.

For more information on Dimitri Vegas & Like Mike:
www.dimitrivegasandlikemike.com
Facebook.com/dimitrivegasandlikemike
Twitter.com/dimitrivegas
Twitter.com/likemike
Soundcloud.com/dimitrivegasandlikemike
Win a Mixmash Release and Laidback Luke Will Play Your Track at Electric Zoo 2014


Laidback Luke is a technical master and now Beatport is calling all up and coming producers: it's your turn to impress Laidback Luke and his label management team. Ready to get discovered by winning the latest 'Beatport Play' remix competition? Make your mark by revamping Laidback Luke & Marc Benjamin's progressive-house banger "We're Forever."

Remix, win, and get released on Mixmash Recordings. It's that easy. If Laidback Luke & Marc Benjamin pick your work as the grand-prize-winner, it will be made available through Beatport in an exclusive remix release.

As a special added bonus, the winning track will be played by Laidback Luke himself exclusively at this year's Electric Zoo, where he plays Saturday, August 30 on Main Stage East!

Enter this contest by July 7 for your chance to win a custom set of Mixmash SOL V10 headphones, an exclusive debut spin of your remix at Electric Zoo, a Sounds to Sample Elements library, and an official release on Mixmash. More submission details here.

Before Laidback Luke plays Electric Zoo this Labor Day Weekend, catch him this Sunday, June 15 at his Super You&Me party on Governors Beach Club playing alongside superhero support Dyro, Tchami, Chocolate Puma and D.O.D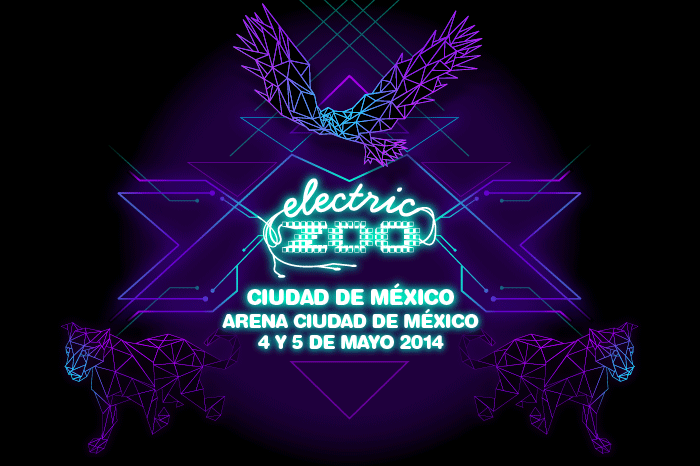 We're excited to announce Electric Zoo Mexico City on May 4 & 5, 2014! Full event details are available at http://www.electriczoofestival.com/mexico.
Nos complace anunciar que Electric Zoo Ciudad de Mexico se llevará a cabo los dias 4 y 5 de mayo. Entra a http://www.electriczoofestival.mx
para todos los detalles.